Blog Posts Hits: 7791
 On August 24th, a jury in a federal court in California ruled that Samsung had violated some of Apple's patents and awarded $1 billion in damages to be paid by Samsung – the amount that might be easily tripled.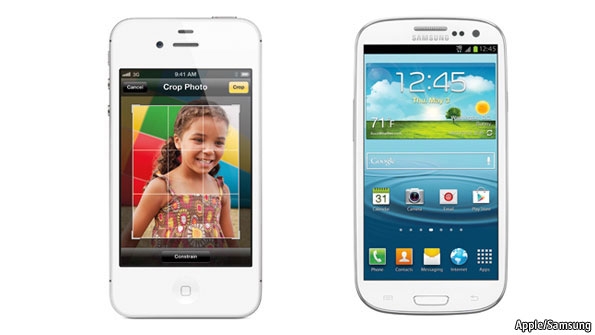 The Economist discusses implications for the tech world:
The outcome of the case will have significant repercussions in the tech world. For a start, it will encourage Apple to lob even more lawsuits at firms it believes are ripping off its intellectual property. It will also encourage other companies that make smartphones and tablets either to license patents from Apple or to modify the design of products to minimise the risk they will be hit with lawsuits too.
 Leaving aside the battles of tech giants, what does the verdict mean for the start-up companies?
Things that set start-up companies apart: 1) no money to license patents from Apple; 2) no money to hire lawyers to go obsessively over the similar patents. It is the nightmare of tech start-up founders to have an established company like Apple fill out the court case; in many cases, the company is done.
However, on the good side of things, defensible patent law means more innovation and variety. Start-ups might realize that patents actually hold value (also the opinion of TechCrunch) and are worth protecting in the court.
But what about the risks? What if the defensible patent law means companies like Apple will sue little start-ups, leaving no place for innovation in the first place?
Robert Scoble advises the start-ups to calm down:
"I think this is actually a sizable win for Samsung. Why? It only cost $1 billion to become the #2 most profitable mobile company….I bet that RIM wishes it had copied the iPhone a lot sooner than it did. So does Nokia, and HTC and a raft of other manufacturers I bet. Samsung is a much healthier company than any of those BECAUSE it copied the iPhone."
That might be true for bigger companies like Samsung that can afford going to court with Apple, in the first place. If you're a young tech exec, having Apple bring up a lawsuit against you is your worst nightmare. Such lawsuits might be possible to win, but impossible to survive for young companies that barely have the money to hire lawyers in the first place.
US Patent law is certainly complicated, and perhaps there is a need for an easier solution that would be friendlier towards start-ups. What do you think it could be?